MSS8 - Axa Jay outside in a question and answers quiz, get it wrong and its WAM time.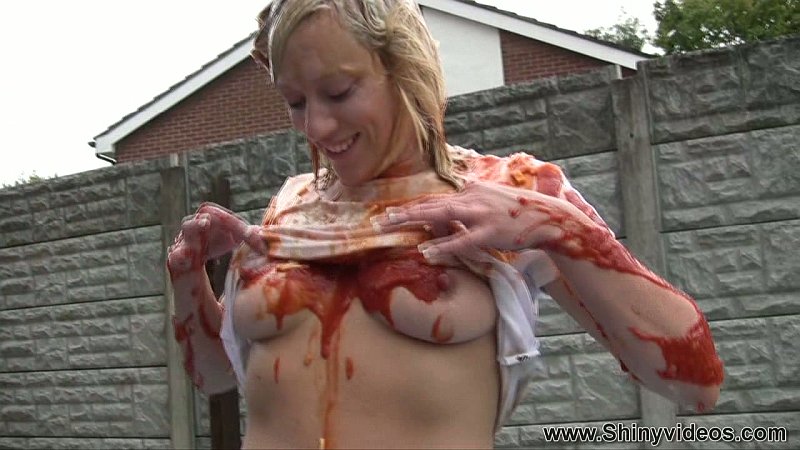 Axa joined one of her fans in a outdoor Paddling pool for a question and answer WAM quiz! Axa wearing a white t-shirt, blue shorts and white knee length socks & her fan in a blue Spandex Zentai Catsuit! This was one quiz that Axa was doomed to fail :)
I'm not sure if i should spoil the surprise of what happened, you can see from the sample clip and gallery what a creative mess this young lady became. There are cream flans used to her head and rear, the cold soups ( yes we could have warmed them but..) The tomato juice just went everywhere, theres a great moment where her pants are filled and it has to be let out. Covered completely from head to toe in everything messy, but always smiling and you may notice the most pert and perfect nipples. There is also the clothing removal at the end, where totally naked, Axa lays in the mess and rolls around for you. This young lady is a Wam fans dream, watch and enjoy.

The Video is 25mins Long & is Shot in Full HD. The Video is in Encoded in 720p DivX.
The Video download is 915mb AVI File.

I've changed the gallery of pictures with this update, as image-barn is now getting over run with adverts and pop up windows and i want to keep everything user friendly.



Add & Read Reviews of this Video at the Bottom of the Page!

I strongly recommend using Mozilla Firefox Internet Browser and a Download Manager like Download Them All to enable you to Download the Video Files Without Disappointment.

Please Check your PC meets the Minimum Requirements to Play High Definition DivX Video Files to Avoid Disappointment:

http://support.divx.com/faq/view/supportFAQen036/System-Requirements-DivX-for-Windows
The payment system will advise you on cost in your currency.
Use the buy now button, this will allow you to come back and click on the download button. Enter your user name and password and download. Epoch take all major credit cards so all transactions are secure and safe.
Please visit Epoch.com - our authorized sales agent