SV110 - Double Star Wars Swimsuits with
Tina Kay & Ashleigh McKenzie....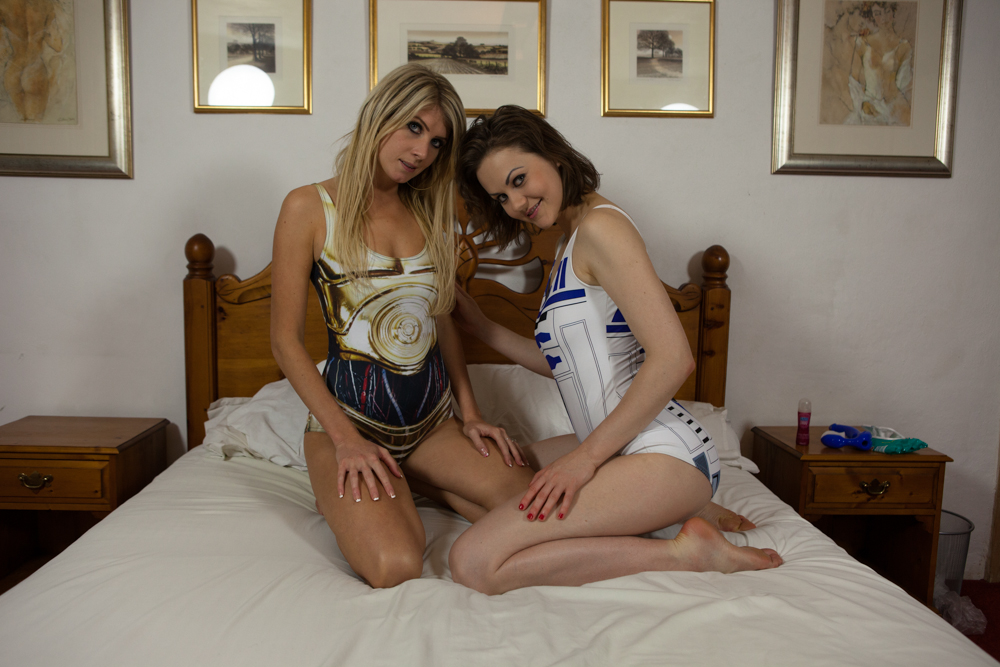 Shinyvideos is proud to offer you exclusive hardcore girl/girl footage of Tina Kay & Ashleigh McKenzie. For all those lovers of swimsuits, both Tina and Ashleigh are wearing the unique Black Milk Star Wars outfits. Ashleigh McKenzie as 3CPO and Tina Kay as R2D2. Come and see Tina and Ashleigh kissing and playing with each other and solo.
After a while Ashleigh takes out a nice surprise for Tina. After getting all hot and horny Tina accepts the surprise and lets Ashleigh pleasure her. But wait, Ashleigh has also a nice shiny toy for herself. Tina of course takes over the shiny toy and returns the awesome toy pleasure to Ashleigh.
After playing with their shiny toys, both Tina and Ashleigh are still hot horny. A strapless dildo is brought in to give them both the sexual release their after. Both are new to this toy so they have to get bit use to it. Eventually Ashleigh starts thrusting the strapon dildo into Tina till she cums. One of the best scenes we've shot featuring two stunning beauties. The gallery of stills will give you a good idea of the action.
The Video is 30 mins long and Shot in Full HD. The Video is in Encoded in 720p DivX.
The Video download is 795mb in total and is an AVI File.





I strongly recommend using Mozilla Firefox Internet Browser and a Download Manager like Download Them All to enable you to Download the Video Files Without Disappointment.

Please Check your PC meets the Minimum Requirements to Play High Definition DivX Video Files to Avoid Disappointment:

http://support.divx.com/faq/view/supportFAQen036/System-Requirements-DivX-for-Windows
The payment system will advise you on cost in your currency.
Use the buy now button, this will allow you to come back and click on the download button. Enter your user name and password and download. Epoch take all major credit cards so all transactions are secure and safe.
Please visit Epoch.com - our authorized sales agent